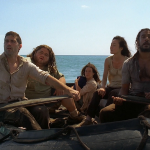 Continuing in the same vein as Part 1, Parts 2&3 was mostly action/adventure and little mythology. And what little there was still seems to support my theory.
For starters, at the end of the last episode's update, I wrote:
In "Something Nice Back Home" Hurley even suggests that none of them made it off the island, and they were, perhaps dead. Not dead, just stuck in limbo between worlds. I feel like the season will end with the five of them not being rescued as we think, but getting hurt, and this whole flash-forward has all been in their minds.