Diary of a Layman #13 (Winter): Let The Sunshine In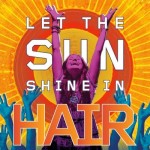 Yesterday, I saw a preview performance of the new revival of Hair on Broadway. The last time I experienced the play, I was –2 months old. That's no typo. My mother was seven months pregnant with me when she saw the original and claims that I was kicking like crazy throughout. Funny, I always get a nostalgic feeling whenever I hear the music from the play, and have tried several times to see it over the years.
The first was in college, when my school put on a production. Unfortunately, it was either cancelled, or I got sick—I can't remember which. I just remember being pissed. I tried again last summer for the free concert in Central Park, but unfortunately, the tickets were sold out. Some friends and I tried to watch from the rocks by Belvedere Castle, but were kicked off by security.
So when my mom told me that she had secured tickets, I was thrilled and felt that I was going to receive some closure to this chapter of my lifelong struggle (kind of like conquering The Legend of Zelda with my brother a decade after my parents took our Nintendo away from us, but that's another story).
The moment I stepped on the subway to go to the show, a black woman with a shopping cart sitting right next to where I had gotten on stood up to let everyone know that God loves us and a few other pointers we could pick up by reading the Bible. I was on the subway with her for another three stops, but she never uttered another peep to the other passengers getting on the train. While it didn't strike me at the time, the scenario is very similar to one that happens in my currently unedited trilogy, The Layman's Answers to Everything*. In the book, it's a Jamaican woman on the subway who's a bit more judgmental in her proselytizing, but the basics are the same. (For the record, that section was written back in 2003.) The scenario happens right after a chapter titled, "Let the Sunshine In," which is named after a song from the play Hair. Out of 50 chapters in the three books, I found this pretty interesting. Even more interesting though, is what happened after I got off the train.
I had bolted up the stairs pretty quickly and once on the street, passed a woman who I overheard say something to the effect of, "everything's going to be all right. He's watching over us." When I turned around I saw that it was a black woman with a knitted cap and a shopping cart. At first I wondered how the heck she'd beaten me up the stairs, but then realized it was not the same woman! I'm not sure if this is another one of those subway angels I seem to be coming into contact with lately, or if there is some kind of Black Women With Shopping Carts religious revolution I'm not aware of. I could've sworn the first woman was wearing a knitted cap too, so maybe it's part of their uniform, like the red berets of the Guardian Angels. Anyway, be on the lookout for elderly black women with shopping carts wearing knitted caps. They might have a message for you.
The message for me however, seems to be that everything is happening as it should, or at least, as it happens in The Layman's Answers to Everything. It kind of hit me last Sunday as I was giving a presentation at a book signing for The Myth of Lost**, my book about the hidden spiritual messages of the hit TV show. As I was speaking, I thought of the Layman story where the protagonist is also doing signings and presentations to promote his book about hidden spiritual messages in TV shows. The time period in Layman when this is going on is around November 2008, yet, it was actually written four years earlier. In other words, I was writing about a fictitious future. Perhaps even more intriguing, the idea to write a story about hidden spiritual messages in TV shows came to me around 1999—about five years before Lost premiered. No joke.
What is definitely no joke is what happens to the world in the Layman book during this timeframe.  While I began writing the trilogy in 2002 and finished the first draft (of all three) in mid-2005, there is a lot in the story that is eerily prophetic of today's situation: a collapse of the world economy, the emergence of the green revolution with a focus on reusable energy sources to replace oil, world floods, food epidemics and shortages and more. There are also a bunch of things in the books that are too fantastical to even speculate on. To be honest, when I originally wrote them, they were meant as more mythological metaphors, not really to be taken literally. Now, I'm not so sure. (Actually, around the time of Hurricane Katrina and the Indian Ocean Tsunami is when I became unsure.) Whatever happens though, whether it be tomorrow, in 2012, or if ever, I feel like the messages I received today are letting me know that it's going to be all right. And I just thought I'd share that with all of you.
Something's coming. Something big. I think whatever it is, if we approach it the right way we'll be able to use it for the ultimate betterment of mankind. But there is no doubt in my mind that it's going to take some challenging times and hard work to get there. All I'm saying is, buckle your safety belts and hang on, we're in for a wild ride. But like most terrifying roller coasters, if we can step off in one piece, not only do we feel exhilarated, we feel stronger than we did before. Stronger because there's one less thing we're scared of in this world. One less thing that will stop us. Whatever happens, I've received a message that we're gonna get through this, and that's enough for me. My friends, this truly is the dawning of the Age of Aquarius. Let the sunshine in.
May your inner spark grow to light your way,
Marc
We starve-look at one another. Short of breath. Walking proudly in our winter coats. Wearing smells from laboratories. Facing a dying nation of moving paper fantasy. Listening for the new told lies with supreme visions of lonely tunes.
Somewhere inside something there is a rush of greatness. Who knows what stands in front of our lives? I fashion my future on films in space. Silence tells me secretly everything. Everything…
—"The Flesh Failures/Let the Sun Shine In"
The Flesh Failures/Eyes Look Your Last/Let the Sun Shine In
PS: For those of you who would like more information about what's going on with The Myth of Lost book and why I always seem so busy even though I'm done writing, editing, and creating it, I invite you to explore any or all of the links below that have occurred since the last update (December 2008).
The Myth of Lost page on Amazon.com (new podcaster review coming soon!):
The Myth of Lost Facebook Page (Lost info in notes and updates on discussion board)
The Myth of Lost YouTube Promo & New York Mythology Group Presentation (2/3/09) highlights
The Lost Community Podcast Myth of Lost Author Interview
The Myth of Lost Prizes for Jay and Jack Lost Podcast Contest (Mentioned in Lost Podcast (AAC): Ep. 4.1 "Season 5 First Look" a little over one hour into it. Move the green cursor until it's above the C): of (AAC): for the exact spot.)
Marc Oromaner's "Lost in Myth" weekly columns posted on Doc Arzt& Friends' Lost Blog
The Myth of Lost trivia on Newsday.com
Marc quoted in Lost Naturalism/Supernaturalism article on Entertainment Weekly.com:
The Myth of Lost iUniverse Top 10 Bestseller for December
The Myth of Lost featured in IC View's "Turn and Spin" Volume 26, Number 4 (Fall 2008; issued December 31, 2008) I don't believe this is posted online, but if anyone can find it, please let me know.
Lazlo Interviews Marc on 96.5 FM The Buzz (Became a weekly interview segment)
Marc featured in NYC Lost Meetup Group DHARMA Video

Paolo Trubiano translates Marc into Italian on his Lost Books Podcast out of Italy (Have to log in to hear it)
Chris McLeod Interviews Marc about Lost on FM96!
Paul Coyte Interviews Marc about Lost on Gold Radio UK (Unfortunately, I never received a recording of this)
The New York Mythology Group Myth of Lost Author Book Signing Event (At Ciao Stella restaurant on February 3, 2009):
The Myth of Lost Radio Book Tour: Intv. #1 610 WTVN Columbus, OH with Bob Connors
The Myth of Lost Radio Book Tour: Intv. #2 570 WSYR Syracuse, NY with Joe Galuski
The Myth of Lost Radio Book Tour: Intv. #3 600 KOGO San Diego, CA with Chip Franklin (Begins about 65% of the way in)
Aimee Noto of The Lost Initiative podcast reviews and endorses The Myth of Lost (Reviewed February 14, 2009)
What LOST is Telling Us About The World Today…And Tomorrow! (Marc's Presentation and book signing at East West Books March 8th, 2009) (Click on March 8 date for more info)
(Facebook page with pictures and video coming soon!)
*New Friends:
If you aren't familiar with the story, here's a brief synopsis:
The Layman's Answers To Everything is a spiritual comedy (or spiromedy) about an unlucky guy who believes he's meant to do something amazing, but has no idea what it is. After experiencing many challenges and meeting a bizarre cast of characters, he stumbles upon secret messages hidden in TV, movies, and music that are aimed at guiding humanity. Using these messages, he starts a new religion which changes his life, and ultimately, the world. This is so much more than just a story though, because throughout the journey, we learn how to discover and fulfill our own destiny using the clues of the universe that are all around us.
I truly feel this book is going to make a real impact on the world, and set into motion a spiritual domino effect that'll help change it for the better. And judging from the way the world is heading, I'm thinking that changing the way we're heading would be a good thing, no? If you don't agree, or would just prefer not to get any further emails from me, just let me know, and I'll take you off the list—no hard feelings. Of course, I can't promise that my book won't track you down and find you anyway, but you have a while yet to worry about that.
#
**The LOST book is called, The Myth of LOST: Solving the Mysteries and Understanding the Wisdom. It not only reveals a solution that explains all the mysteries of the show, it also explains how the show's wisdom can be applied to our real lives.