How To Swaddle & Calm Your Baby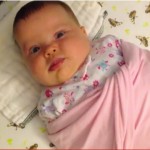 In this Layman's Answers to Baby Care episode, the Layman shows how to swaddle your baby with a baby blanket and a Miracle Blanket, AKA the Baby Straight Jacket. He also demonstrates Dr. Harvey Karp's (get his video here) Five S's method for getting baby to chill. Also covers "back to sleep," "tummy time," "pineal gland dreaming," and the origins of the lullaby.
Please Subscribe!
The Layman's Answers YouTube Channel: http://www.youtube.com/user/TheLaymansAnswers
The Layman's Answers to Everything Blog: https://thelaymansanswerstoeverything.com/subscribe/
If video doesn't appear below, please refresh your browser.

Legal Disclaimer: This video is not in any way meant to replace advice, information, or techniques recommended by pediatricians, but as entertaining and helpful tips personally found to be helpful by a layman with personal experience.