Lost In Myth: "Lost" 316 on Leaps of Faith & The Cycle of Life
The concept of taking a leap of faith has been covered many times on Lost. Locke had told Jack that he was taking a leap of faith by pressing the button; Hurley took a leap of faith by risking his life with Charlie to get the DHARMA van started as it sped down a hill; and in the episode titled, "316," the theme shows up throughout. In fact, the title itself should've been the first tip-off.
One of the many things I love about Lost, is that it teaches us that words, images, and symbols can all have multiple meanings and that all of them can be relevant. Interestingly, this concept is exactly how scholars interpret the Bible. There are actually four levels on which the Bible (particularly the Old Testament or Torah) is traditionally studied and interpreted—literal, metaphoric/parabolic, searching, and hidden/secret (the mystical or kabbalah level). To demonstrate the amount of spiritual wisdom that Lost provides, let's use these four perspectives to examine the title of this Lost episode, just to see how much mythological meat we can get from only three measly digits alone.
From a literal perspective, "316" is the Ajira Airways flight number that the Oceanic Six used to return to the island during the episode. Okay, that one was pretty simple—done. From a metaphoric or parabolic (allegorical) perspective, the title might refer to John 3:16…
For God so loved the world, that he gave his only begotten Son, that whosoever believeth in him shall not perish, but have everlasting life.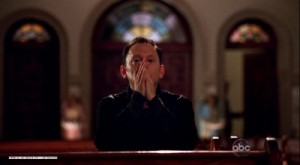 From this one level alone, there are hundreds of ways to interpret how this passage might relate to Lost, life, or John Locke. Is the implication that Locke will be resurrected just as Jesus is said to have done? Is the episode actually about the second chance of the Oceanic Six? Is the theme of faith important for the characters, as well as for the audience who are gambling with an increasingly convoluted storyline? In a word, yes. Actually, the key word here, for the purposes of this column, is "believeth." I'll get back to that soon.
Continuing with the interpretations, from a searching perspective—the next level— what does 316 mean? Well, perhaps we can look to numerology. Numerologically, 316 is equal to the number 1 (3+1+6=10, 1+0=1). 1 usually relates to strong leadership qualities—power and self-confidence. From a religious perspective, it can relate to the one God. All of these seem to imply a renewed path for the Oceanic six, and/or John Locke. Of course, 3 is also "the magic number," and 16 is one of the Lost numbers. It also is the age a girl is when she has her Sweet 16—when she becomes a woman. Becoming a woman, relates to her role as earth mother, the power of the feminine, the goddess, the yin energy. The island on Lost is a metaphor for our world (mother earth). So if Locke, the male energy/Jesus archetype is brought back to the feminine island, it brings a completion to the yin-yang cycle. I'll get to cycles later, but you're probably seeing why this level is called the "searching" level, and there's still much more searching that can be done. There's also 316 as a date—March 16th. March 15th, in Shakespeare's Julius Caesar is the ides of March—a day of foreboding when it was predicted that Caesar would be murdered.  The day after that death would be March 16th, a day of resurrection. Now, while it may seem like I am grabbing at straws here, before you condemn these seemingly ridiculous comparisons that were unlikely to have been purposely chosen by the writers, remember, "there are no accidents." Life is an amazing puzzle where many concepts fit within one another like puzzles within puzzles—or cycles within cycles, which, as I said, I'll get to in a bit.
The forth level of interpretation, is the hidden or secret level. Unfortunately, I am not learned enough in the ways of mystical interpretation or Kabbalah to decipher what this level would be (though, I'd probably begin with the numbers 3, 1, and 6 and relate them to their respective ten emanations of the Divine, or use gematria to substitute the numerals for Hebrew letters to see what word they formed). Even if I were knowledgeable enough in Kabbalah though, I probably wouldn't be able to spill it here anyway—hence the term "secret." Suffice to say, if you see how each of the previous three levels become evermore complicated than the last, you get the idea of how complex this level would be. It takes information and continually folds it upon itself to look at it from angles far beyond what us mere mortals usually understand. For the point I'm trying to make here though, getting the message of this level isn't even necessary. I just wrote four paragraphs of interpretation from just one tiny, aspect of Lost alone. Can you imagine the volumes upon volumes of wisdom that could emanate from one whole episode, or one season, let alone the entire run of the show? (Well, as a Lost fan, you probably do.) Perhaps, a scholarly analysis will one day be done, and a Talmudic body of work will be collected, analyzed and proposed as a new philosophy or even religion—a religion based upon this very show that seems so relatively trivial today. Sure, Lost is great, but can its wisdom form the basis of how we live? I say yes, because this wisdom is exactly the same as that found in our age-old holy books. As an example, allow me to analyze two important themes of this episode: "The Leap of Faith" and "The Cycles of Life."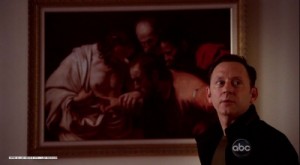 The "leap of faith" concept comes up at least three times in "316." First, Eloise Hawking says it to Jack as he begins to doubt why he has to go through the ridiculous steps she's describing to return to the island. Shortly afterwards, Ben points out a painting of Thomas the Apostle to Jack, and makes the point that while Thomas was brave (for volunteering to return to Jerusalem with Jesus even though he'd likely be killed), he is remembered as the Doubting Thomas who didn't believe Jesus had risen until he touched his wounds. Ben then says that we're all convinced sooner or later. For most of Lost, Jack has played the role of the Doubting Thomas to Locke's Jesus. Now, he is being asked to take that leap. Perhaps, the third time is the charm for Jack. This third reference to faith in the episode happens while Jack is on the plane and realizes that Locke's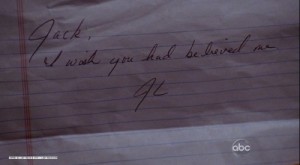 note is following him despite his reluctance to read it. He finally concedes and reads the final wish John had before allegedly taking his life: "Jack, I wish you had believed me." There's that word again—"believe." Believe as in "whoever believeth in him." Believe as in the concept behind taking a leap of faith. Believe, as in what Jack must now do to save his friends, and possibly the world.
While belief is important, it alone is not enough according to the leap of faith allegory. The full concept is that a sacrifice must be made—that's the leap part. Getting back to the earlier example, when Hurley first tried to get the DHARMA van started in the episode "Tricia Tanaka is Dead," he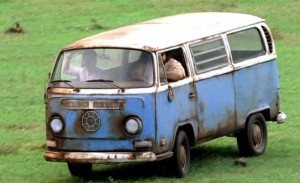 believed it would start, but it did not. Only when he risked his life with Charlie was he able to bring it back to life. Why? Because he didn't just think the van would start, he acted with the full intention that it would—and this intention was in line with his destiny. Remember, Hurley later uses the van to save Bernard, Sayid, and Jin from being executed by the Others. Is there an important message we can infer from this that could help us in our everyday lives? You bet. It takes more than really wanting something to make your dreams come true. You must act—and the more you put yourself out there and act as though your dream has already happen, the more likely it will. Especially if it is in line with your destiny—and if it's something that you truly want with all your heart that could potentially benefit humanity, it probably is.
This message is very pertinent today, as the world appears to be plummeting to certain doom. But what if we believed that this trying time is all just a much-needed correction? That it will make us stronger by enabling us to create a better society. One that isn't dependent on foreign oil, allows us to make better use of our resources, enables the jobs of investment bankers, stockbrokers and politicians to be more transparent, and makes life easier for most of humanity? Won't a few years of hard work be worth it? We've been through tough times before, and nearly always wound up better off on the other end. We are just repeating another cycle. Speaking of which, Lost brought up this very theme in "316" too.
The start of this episode began just as the first episode of Lost had—with a close-up of Jack's eye as he lay on the ground. As we flash back, we learn that all the Oceanic Six had to duplicate the events of the original crash as much as possible to get back to the island. So the body of Locke was used as a substitute, or proxy, for the body of Christian Shephard, Sayid was in handcuffs with a marshal escort just as Kate had been, and Hurley brought along a guitar similar to Charlie's. Kate might also now be pregnant thanks to Jack, just as Claire had been, but I'm not going to get into that. The point is, on Lost, as in life, events repeat themselves. Think of life as a spiral. As we climb upwards, we continually reach a new segment of the spiral that is aligned with all those below it, and whatever theme that segment represents, repeats itself—albeit within the context of the issues of the day (the higher level of the spiral). In fact, these themes usually relate to precedents set in the Bible.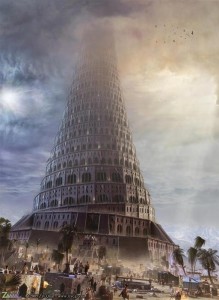 Early on in the Bible, we get the story of the Tower of Babel. Man decided that it had become so advanced, that it could create a tower high enough to reach God. Unfortunately, the tower fell, and God mixed up man's tongues so that repeating the same feat would be considerably more difficult. So, becoming very proud of its materialistic achievements, man was shown that those achievements really amount to nothing. Fast forward to the early 1900s, when the Titanic was declared as the "unsinkable ship." What happened? It sunk. Then there was the World Trade Center—two mighty towers representing the pinnacle of commerce in the material capital of the world—and we all know what happened there. Today, less than ten years later, we are experiencing the very same theme. The banks that were "too big to fail" have failed along with the world economy that had grown too big, too fast. In each of these four examples, the false idols that were worshipped as being indestructible were destroyed. Apparently, we are not learning our lesson. And the lessons will come faster and faster until we do. I do not believe they're meant as punishment, but to help us grow so we can safely navigate the new age that's to come. An age where the veil that has been separating our illusionary, material world from the real, spiritual one is beginning to open.
As a mythological story filled with valuable insight, Lost is giving us many lessons that can help us make sense of this new world. In fact, I'll go so far as to say that if Lost were required viewing for all of humanity, and everyone took its wisdom to heart (as well as mind and action), we wouldn't have to be getting these hard challenges from the universe. We would be challenging ourselves. As they say, "fear pushes you until the vision pulls you." Right now, we, along with the Losties, are being pushed. Only time will tell if we, and they, can see the light and get ourselves back on course. Personally, I have faith that all of us will. And I'm taking a leap of faith by putting myself out there with a slightly esoteric and possibly polarizing column (and book) that I hope will get people thinking differently about the myths in the media. How about you? How might you take a leap of faith?

Marc Oromaner is a New York City writer whose new book, The Myth of Lost offers a simple solution to Lost and how it provides hidden insight into the mysteries of life. He can be contacted in the discussion section of The Myth of Lost Facebook page.
The Myth of Lost is available on Amazon and barnesandnoble.com.