Diary of a Layman #12 (Autumn): Angels in NYC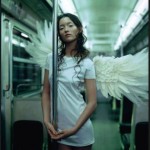 Hello fellow fans of the mysterious universe!
So much has happened since my last Layman*/Lost** update, I don't know where to begin. I guess that's because for the first time since I began these updates back in January 2006, I now actually have a published book I can talk about! In typical Lost fashion however, let's take a flashback first…
It's September 24th, 2008. I'm rushing iUniverse to send me the first printed copy of my book, The Myth of Lost, so I can make sure it's kosher, order multiple copies for my book release party, reserve the party at the outdoor venue I wanted (which was closing in a few weeks for the season), invite people to said party, order needed items for it, create other items for it, organize the book page on Amazon, begin soliciting reviews, etc., etc., …you get the picture.
While the party ended up a big success (click here for photos and a video), and the amazon page for the book has really shaped up with lots of great reviews, at that time, I was running around like crazy trying to get everything to align. It was nearly October, and having a party on a beach was beginning to seem like a bad idea. I called iUniverse to see what was going on with the book and finally got them to overnight me the first copy. I'd told them to send it to my work address but they'd missed the message, so I wound up missing the package from UPS. So I called UPS and asked them to deliver it to my work address because I knew I wouldn't be home the following day either as I am doorman-less in Manhattan.  They said "no problem" and since I'd called before 5PM, I'd get it the next day. Not true, as I eventually found out, because the new address was served by a different UPS location, so they wound up needing an additional day. Had I known that I wouldn't have changed it.
So, now it's three days after the initial delivery and while I'm kind of annoyed I'm thinking I'm finally going to get the package. Unfortunately, now UPS made a mistake and it was "mis-sorted to an incorrect location." So I am to wait yet another day! Did I mention it was Mercury retrograde? Now, I'm getting angry. I call up UPS to find out what the @#$%&'s going on and they tell me it's in Queens and they'll send it to me that night. I asked if I could just pick it up from the UPS location. They had to check. A woman named Michelle called me back and told me to pick it up in Queens where she would hold it for me. I'm at work in Manhattan, so I rush out to their facility in the middle of nowhere Queens, spend—I kid you not—10 minutes trying to figure out how the heck to get in the building (there was an entrance hidden between the parked UPS trucks…which were in a parking lot….behind a gate), finally track down Michelle, and she tells me that not only does she not have the package, she didn't even remember talking to me 45 minutes earlier. Did you know that UPS security guards carry Taser guns? Lucky for Michelle.
Still in Queens, I'm alternating between extremely exhausted and completely enraged. I manage to compose myself long enough to call the main UPS office to find out where my package is. Turns out that this is an excellent question they did not have an answer to. Apparently, they couldn't find it. Did you know that UPS telephone operators are trained to remain calm no matter what kind of a maniacal nutcase they are speaking to on the other end? It's true.
Now, I'm racing back to work, running in hopes of burning off my anger. It's not working. I get to the 7 Train, schlep back to Manhattan, and begin darting around Grand Central trying to find a connection to the freaking 6 so I can get back to work after wasting hours of my day. For some reason, the 6 Train is not in an obvious place you'd expect it to be. Having completely lost all patience, I'm about to start Incredible Hulking—there's a creepy yet harmonic choir singing as my eyes turn pale, my shirt begins to rip, my skin turns green and suddenly…
"You look lost," someone says.
"Huh?" I reply, reverting back to my mortal self while spinning around to see a petite girl smiling back at me.  Her smile is not returned. "I'm trying to find the 6 Train," I say, looking up at a nearby escalator to see if there is a hint as to where it might go.
"You just have to follow the signs," she says sweetly, and points to the 6 Train logo on the wall that is directing up towards the escalator.
Despite her obvious clues and sweet tones, I'm completely in my reactionary zone, and am immediately insulted. How dare she belittle me, a native New Yorker, as though I am some kind of ignorant tourist that doesn't know about the signs! I rush to the escalator, cutting in front of her and spin around to snap back some defensive comment to repair my severely bruised ego. Before my venom can strike however, I look at her face for the first time, and see that she is taken aback by my negativity, and already bracing for the backlash. And that's when it hit me. She told me to "follow the signs"—IT WAS A SIGN YA DUMMY!!! She was channeling guidance to let me know everything was going to be okay, but I'd been too close-minded and reactionary to notice! So instead of lashing out, I thanked her, and raced up the escalator stairs with a whole new perspective and refreshed supply of positive mojo. Only later, as I was retelling the story, did I remember that the first thing she'd said to me was that I'd looked LOST. Could the universe have been any more obvious?? And yet, I'd been totally oblivious.
Was she an angel? Someone from the future? A manifestation of my own subconscious? An ordinary girl with a pure heart able to channel a message to me? Was it all a huge coincidence? While I'll never know for sure, for me, it doesn't matter. I got the message. I was reminded of who I am and that shit happens and that you have to use it to grow, not react.
That night, I received a call from UPS, they'd found my book and I'd have it the next day. Unlike the other three promises, this one came to fruition. By now, the party was going to have to be pushed to mid-October. I stopped myself before I could think of what rotten timing it would be for a beach party, and instead focused on a beautiful, sunny 70-degree day. Maybe the powers that be were just having some fun, but it ended up being a beautiful, sunny 70-degree day in the middle of October.
Everything happens for a reason; we have to look out for the signs; we are all connected. These are the messages of Lost that we need to be reminded of. I even wrote a BOOK about them and forgot about their wisdom, I can only imagine how hard it must be for most people to remember.
For those who just like to read my quarterly stories, that's it for this season's update. For those of you, however, who would like more information about what's going on with the book and why I always seem so busy even though I'm done writing, editing, and creating it, I invite you to explore any or all of the links below.
May your inner spark grow to light your way,
Marc
The Myth of Lost page on Amazon.com
The Myth of Lost Facebook Page
The Myth of Lost Book Release Party page
Photos (Click for captions)
Video
First Myth of Lost Online review from BuddyTV
First Myth of Lost Free Book Contest on Dark UFO (Now finished after 90 entries):
The TailSection: First Lost Blog/Forum reviews The Myth of Lost
Forum version
Blog Version
First Myth of Lost author podcast interview on Lost Mythos:
Talkshoe Page
Website Page
The Myth of Lost Author Book Signing at Previously On Lost (The Band) Show
Photos
The Myth of Lost YouTube Promo
Win a copy of The Myth of Lost Caption Contest on Buddy TV (Ended last week, see site for winners and their winning captions)
The Lost Community Podcast Myth of Lost Author Interview (Coming soon!)
The New York Mythology Group Myth of Lost Author Book Signing Event (Event Posted for February 3)
And, there are at least 20 other things in the works all coming soon, which I guess I'll post in the next update!
*New Friends:
If you aren't familiar with the story, here's a brief synopsis:
The Layman's Answers To Everything is a spiritual comedy (or spiromedy) about an unlucky guy who believes he's meant to do something amazing, but has no idea what it is. After experiencing many challenges and meeting a bizarre cast of characters, he stumbles upon secret messages hidden in TV, movies, and music that are aimed at guiding humanity. Using these messages, he starts a new religion which changes his life, and ultimately, the world. This is so much more than just a story though, because throughout the journey, we learn how to discover and fulfill our own destiny using the clues of the universe that are all around us.
I truly feel this book is going to make a real impact on the world, and set into motion a spiritual domino effect that'll help change it for the better. And judging from the way the world is heading, I'm thinking that changing the way we're heading would be a good thing, no? If you don't agree, or would just prefer not to get any further emails from me, just let me know, and I'll take you off the list—no hard feelings. Of course, I can't promise that my book won't track you down and find you anyway, but you have a while yet to worry about that.
#
**The LOST book is called, The Myth of LOST: Solving the Mysteries and Understanding the Wisdom. It not only reveals a solution that explains all the mysteries of the show, it also explains how the show's wisdom can be applied to our real lives.