How To Bottle Feed Twins Pts. 1-3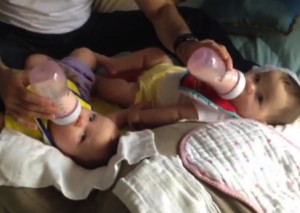 In this Layman's Answers to Baby Care episode*, the Layman shows how to effectively feed twin babies simultaneously! Learn how to mix formula with less gassy bubbles; prepare formula in one daily batch; how to decipher baby babble cues for hunger, burping, and more; times and amount of feedings, options for propping up babies, option for hands-free feeding, burping best practices, easiest ways to record baby feeds, and learn about the Indiana Jones Switcheroo!
How To Bottle Feed Twins: Preparation
 If video doesn't appear below, please refresh your browser.
How To Bottle Feed Twins
 How To Bottle Feed Twins: Burping, Clean-up, & Mixing Formula
Products mentioned in these videos can be purchased at the links below…
Get your general baby products here (Hurry, supplies are limited!).
Great deal when buying Similac in bulk!
Get your Boppy Pillow here!
Feed twins on an Upright Pillow, aka bedrest, aka husband.
Other option for feeding twins, BabyBjörn.
Podee Hands-Free Twin Bottle Feeding!
Avent PBA-Free Bottle 3-Pack!
Munchkin Deluxe Bottle Cleaning Brush!
Dr. Brown's Formula Mixing Pitcher!
Dunstan Baby Language—Learn the Universal Language of Newborn Babies
Please Subscribe!
The Layman's Answers YouTube Channel: http://www.youtube.com/user/TheLaymansAnswers
The Layman's Answers to Everything Blog: https://thelaymansanswerstoeverything.com/subscribe/
*If you are subscribed to receive notifications but do not wish to be notified about the baby videos, you can unsubscribe from this specific category. Visit: https://thelaymansanswerstoeverything.com/subscribe/ and click on the "profile" link. Then, simply uncheck "Baby Care Videos" from your Subscribed Categories.
Legal Disclaimer: This video is not in any way meant to replace advice, information, or techniques recommended by pediatricians, but as entertaining and helpful tips found to be useful by a layman with personal experience.